NJFSC Chapter #44S..........PHS Affiliate #1A..........APS Affiliate #95
Society & Member's Galleries....
As we continue to add more galleries, some will be for public display while many will be reserved for members access only.
Featured Covers Gallery
February 2011 Issue of the NJPH Journal A Folded Letter in art - was it from New Jersey?
This painting by Jacques-Louis David, painted in 1821, shows two Bonaparte princesses reading a stampless folded letter from their father, Joseph Bonaparte, brother of Napoleon. Was it written to them from New Jersey?

Yes, it could well have been, as Joseph Bonaparte lived in New Jersey from 1817 to 1838, an exile from France after the defeat of his brother Napoleon at Waterloo. Many exciting stories exist – about his arrival in this country under an fictitious name, slipping by two British frigates which might have claimed him as a prisoner, about his loyal secretary, returning to his estate in Switzerland to retrieve
diamonds and other valuables buried on the grounds there, about the mansion on the 1,800 acre estate in New Jersey, on the cliff overlooking Crosswicks Creek and the Delaware, filled with paintings and sculptures, and a library larger than the Library of Congress at that time.
Joseph Bonaparte came to this country without his family, leaving a wife and two daughters behind in Belgium. His wife (for health reasons) was never able to come to the United States, but his daughters, Charlotte, and Zénaïde, did. This painting was done shortly before Charlotte arrived in this country, and shows both girls reading a stampless folded letter which is presumed to have been from their father, as the words "Philadelphie" and "chères petites" are visible on the page. He wrote in another letter from Point Breeze, in Bordentown, NJ, "I am writing from a room which is the most appealing in the house and perhaps of all the left bank of the Delaware. It has seven windows of which five are on the river. Four times a day the steamboats stop below the windows – I hope that someday I will have the pleasure to be here with you. Today I am alone." (Stroud, The Man Who Had Been King, UPenn Press, Phila., 2005)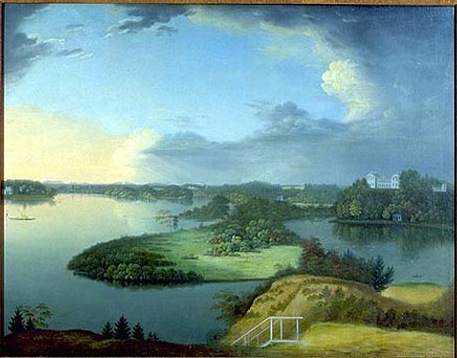 From the Collections of the New Jersey Historical Society, Newark, NJ
This painting, "A View of the Deleware (sic) from Bordentown Hill," by Charles B. Lawrence, ca. 1819, shows the white buildings of the Bonaparte estate overlooking Crosswicks Creek in Bordentown, New Jersey. This building burned in 1820, and another home was built on the same property, closer to the turnpike.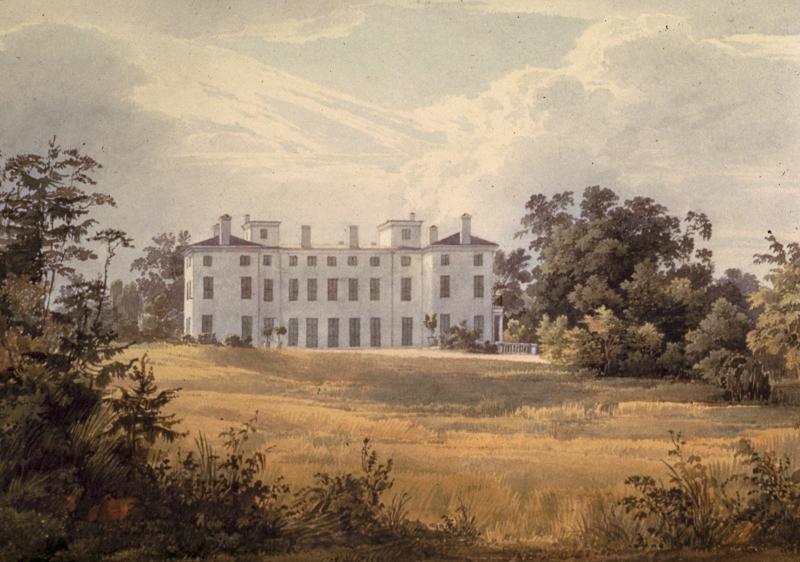 The second home of the Count de Survilliers (Joseph Bonaparte) at Point Breeze, shown in a painting by Karl Bodner, 1832, now in the Joslyn Art Museum, Omaha, Nebraska.
Many letters passed between Joseph Bonaparte (known in this country as the Count of Survillieurs) to his family and associates in Europe, but few are available to postal history collectors. Several exist in the collections of the New Jersey Historical Society in Newark. Those we have seen often do not carry postal markings, as they were carried by messenger or by arrangement under cover, so as not to fall into unsympathetic hands.
This letter, to Joseph's sister Caroline, and in the archives of the New Jersey Historical Society, was mailed from New York on May 6, 1816, not long after Joseph Bonaparte's arrival in this county, but includes no postal markings, so we don't know just how it was carried. It is signed simply Joseph, and is docketed as received August 3 1816.
Collections of the New Jersey Historical Society, Newark, NJ
None of the letters in the New Jersey Historical Society has any New Jersey postal markings, Bordentown or otherwise, although some are datelined Point Breeze. The letters themselves are often regarding Joseph's business dealings, and addressed to his business contact in New York. Should someone locate a stampless folded letter from the Count of Survilliers, otherwise known as Joseph Bonaparte, or either of his daughters, that does have New Jersey markings, we would love to hear about it. Please contact Secretary@NJPostalHistory.org.
References:
The Man Who Had Been King, by Stroud, Patricia Tyson, University of Pennsylvania Press, Philadelphia, 2005.
A Biographical Sketch of Joseph Napoleon Bonaparte, Count de Survilliers, R. Walsh, L. Belmontet,published by J. Ridgway & Sons, London, 1834, http://www.archiye.orastream/biographicalske0Obelmgoog#page/n119/mode/2up
Joseph Bonaparte en Amerique, 1815-1832, by Begin, Georges, Paris, Librairie de la Nouvelle Revue, 1893. Available at www.googlebooks.com
Lomerson, Ralph, in the Lebanon Twp. News, Spring 2007, http://www.lebanontownship.nethews/newsletters/Spring07Newsletter.pdf
Bonaparte's Park and the Murats, by Woodward, E.M., Trenton, 1879 at www.googlebooks.com.
The Bonaparte Connection at http://www.philaathenaeum.org/bonaparte/page1.html .
And a nice description of Pointe Breeze today, by Monmouth College archeologists: http://www.monmouth.edu/newswire/default.asp?iNewsID=5404,
---
Past Featured Covers
November 2010 Issue of the NJPH Journal REVOLUTIONARY WAR COVER

The cover of our most recent journal features this Revolutionary item, from Don Chafetz's prize-winning exhibit of Morris County Mail Service, 1760 to 1850.
August 2010 Issue of the NJPH Journal NEW JERSEY ILLUSTRATED LETTER SHEETS

These items were made popular by the nice ones that exist from the California Gold Rush days, and those used during the Civil War, where they depicted contemporary scenes at the top of the letter sheet, the rest of which was then used to write a letter.

Earliest examples usually included an attached sheet and were used as stampless folded letters.

Later ones were more like letterheads, and were sent enclosed in envelopes.
May 2010 Issue of the NJPH Journal Celebrates the 100th Anniversary of the Boy Scouts of America!

Treasure Island Scout Camp occupies a fifty-seven acre island in the Delaware River between Pennsylvania and New Jersey. The camp is operated by the Cradle of Liberty Council (formerly the Philadelphia Council), Boy Scouts of America. Read more.....
February 2010 Issue of the NJPH Journal featuring a 1995 cover of the aircraft carrier USS Kitty Hawk, the last of the conventionally-powered US aircraft carriers, decommissioned in 2009.

This great ship served almost 50 years in service of her country.
November 2009 Issue of the NJPH Journal featuring a Holiday Greetings from Viet Nam

Just before Christmas of 1971, a GI-produced Christmas card was distributed to the troops of the 101st Airborne for them to send home. A hand-made envelope served to carry it home to New Jersey.

As it was late in December, member Jim Walker used a U.S. air mail stamp instead of the usual free frank available to soldiers in combat,
Read more.....
August 2009 Issue of the NJPH Journal featuring a a Graf Zeppelin cover.

L127 First Trip to the USA in 1928. Special credit to John Trosky for this nice article!

WEB-SITE SPECIAL: an addendum to this article with additional information on an originating 1928 LZ-127 cover from Len Peck!
Read more.....
May 2009 Issue of the NJPH Journal featuring a DPO cover from Maurer, New Jersey.

A pretty little letter sheet invitation from a local hotel in Maurer (now part of Perth Amboy, Middlesex County), NJ turned up at the Garfield-Perry Show in Cleveland, in JWF (Jim Faber's) stock. Used in 1905, it is from a community that literally does not exist anymore. The location is now the site of a large "tank farm" belonging to Chevron.Read more.....
February 2009 Issue of the NJPH Journal featuring a cameo campaign cover.

A December 15, Hoboken, NJ postmarked Embossed Cameo Campaign Envelope produced by William Eaves was offered this March by Robert A. Siegel Auctions featuring a beardless Abe Lincoln. Only a few examples are known. This Hoboken, New Jersey cover hammered on March 25, 2009 for $2600.00 before the 15% buyers premium! Read more.....
November 2008 Issue of the NJPH Journal featuring a cover of seasonal greeting.

A RFD "Season's Greetings" post card, cancelled December 24, 1915 with a Pittstown, NJ postmark, sent by the carrier on Route 2 out of Pittstown to the people along his route. Special thanks to Member Jim Walker for sharing this cover. Read more.....
Members: One of the benefits of membership is sharing your interests and collections! If you would like to share an interesting single item from your collection, or have multiple items to share - the NJPHS Galleries offer you the opportunity to put your collectibles on center stage. Please e-mail your webmaster about contributing to our on-line Galleries. We can even help you if you do not have a scanner or digital images. Just ask. Remember, we are always looking for articles of interest for the NJPH Journal, and would welcome your contribution whether it's a single page or five page article.
If you are not yet a member, please consider the benefits of joining and the satisfaction you'll get by sharing with your fellow collectors: Become a Member