NJFSC Chapter #44S..........PHS Affiliate #1A..........APS Affiliate #95
Society & Member's Galleries....
As we continue to add more galleries, some will be for public display while many will be reserved for members access only.
Featured Covers Gallery
August 2009 Issue of the NJPH Journal featuring a Graf Zeppelin cover: L127 First Trip to the USA in 1928. Special credit to John Trosky for this nice article! WEB-SITE SPECIAL: an addendum to this article with additional information on an originating 1928 LZ-127 cover from Len Peck!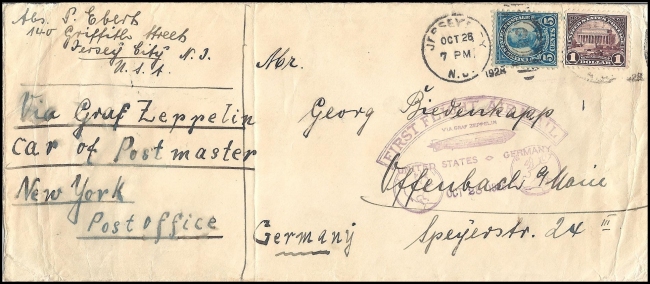 New Jersey played a large role in the development (and the demise) of the history of Zeppelin-type airships, which began in the 1920s. The Lakehurst Naval Air Station, in Manchester Township, Ocean County, New Jersey was a landing station for these ships, and the scene of the terrible Hindenburg disaster in 1937. The cover below is from the first of the Graf Zeppelin airships to visit the U.S., in October 1928.
The Graf Zeppelin was built in Friedrichshafen Germany and first flew on September 15, 1928. Shortly thereafter, Dr. Hugo Eckener, head of Luftschiffbau Zeppelin, commanded the mighty airship on its first intercontinental passenger flight from Germany to the USA, departing on October 11, 1928 and arriving at the Lakehurst Naval Air Station in New Jersey only four days later after flybys of Washington, DC, Baltimore, MD and New York City (a distance of 4391 miles).
Its return voyage to Friedrichshafen was scheduled for October 28, 1928, and mail was directed to the New York Post Office for collection and cancelling, before being delivered to Lakehurst, NJ for the return flight. This cover, mailed on October 26, 1928 with the appropriate $1.05 postage to cover the exact rate, was sent addressed to Germany via the New York Post Office (not under separate cover as many such covers were), so the stamps were cancelled at the originating post office (Jersey City, New Jersey) and no New York Foreign Mail cancel was applied. It does however have the Zeppelin First Flight October 28, 1928 cancel which was applied to covers flown on this return flight.
The reverse of this cover shows the backstamps received when the cover arrived in Germany, 4 days later in Friedrichshafen, and one day later in Offenbach: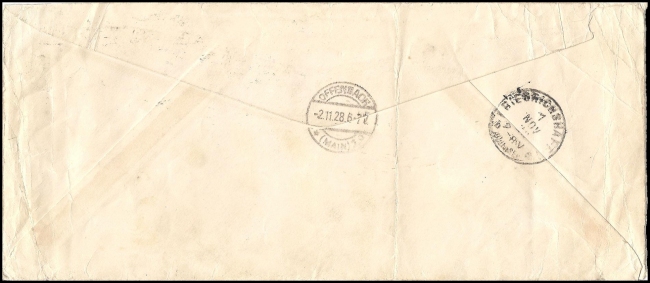 The Graf Zeppelin LZ-127 fly-bys of New York included this view of it in flight:

And the New York skyline – seen from the LZ-127 in 1928 – looked like this: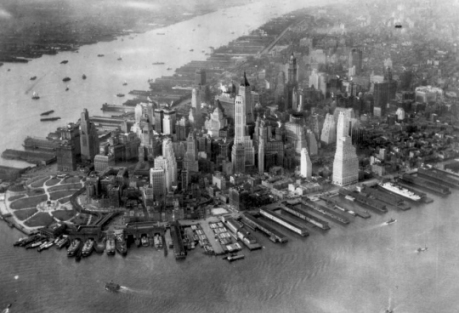 A now often-forgotten piece of historic trivia is that the spire on the Empire State Building, which was beginning construction at the time of the Graf Zeppelin's first visit to New York, was originally planned not as a radio tower, but as mooring mast for air ships.
The Empire Sate Building was originally planned to be 85 floors, just slightly higher than the Chrysler Building, until financier John J. Raskob decided it needed the addition of a mooring spire, and should become "an airport in the sky." The additional 200 feet included a mooring mast for air ships, and the 86th floor was designed as a departure lounge with customs and ticket offices. The building's framework was reinforced against what would be the 50-ton pull of a moored zeppelin, and winch equipment was installed.
The imaginative scheme failed to take into account the treacherous winds of the canyons of Manhattan, the fact that a ship would be tethered only by its nose with no ground lines to secure it, and that ballast water released to maintain pitch would dump large amounts of water to the streets below. Passengers disembarking would need to maneuver a swinging gangplank high above Manhattan, to a narrow open walkway near the top, then descend two steep ladders inside the spire just to reach the elevators below. Before completion of the Empire State Building in 1931, safety issues had overcome the enthusiasm for this dangerous scheme. *(See below for web sites)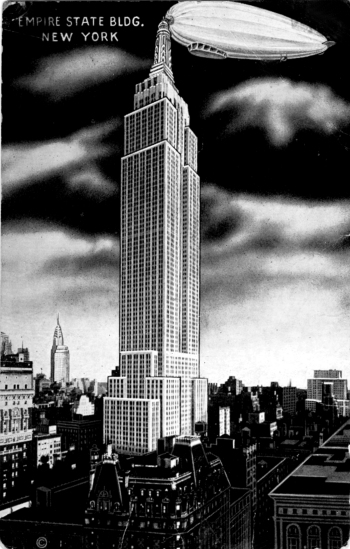 This "photo" is a fake. By the time the Empire State Building was completed in 1931, this plan had been abandoned, but not before it had spawned the production of such fantasy post cards.
A Second LZ-127 Cover! –
from the originating flight from Germany to the USA, Oct 10, 1928:
Member Len Peck [probably our oldest NJPHS member, a nonagenarian approaching centenarian status] responded to the article in our recent NJPH with a cover of his own and the accompanying letter:

Sept. 2, 2009
Had I known that John Trosky was writing an article for the August, 2009 issue of the NJPH journal I could have sent him the enclosed photocopy of a cover in my collection which came to me on the same flight from Germany, in the opposite direction. At that time I was working for David H. Smith and Sons who were Steel Wholesalers and Fabricators in Brooklyn, N.Y. using heavy duty steel fabricating equipment that was manufactured by R. Sonntag in Germany who knew of my interest in stamp collecting and sent me a letter on the first flight made by the Graf Zeppelin to the United States.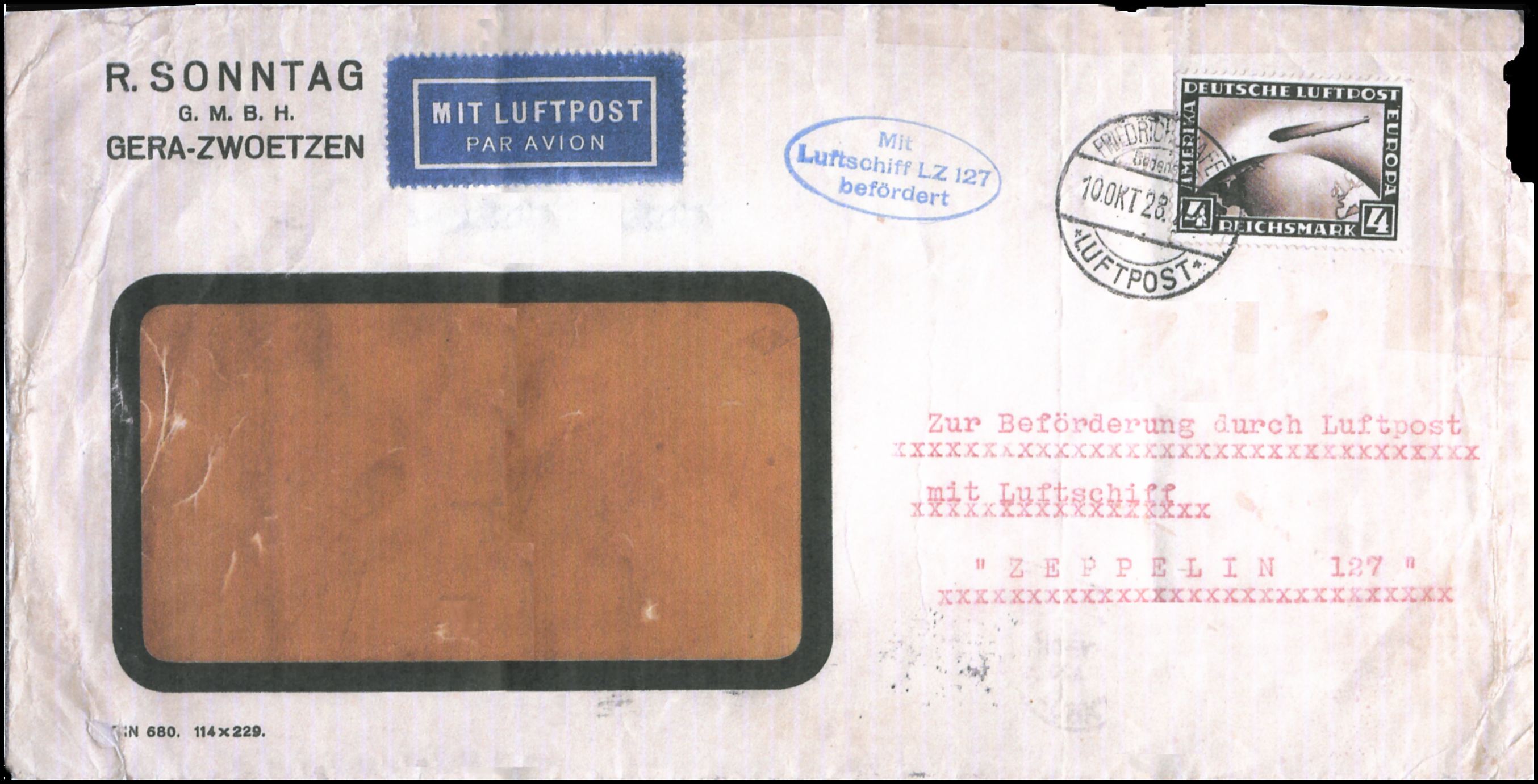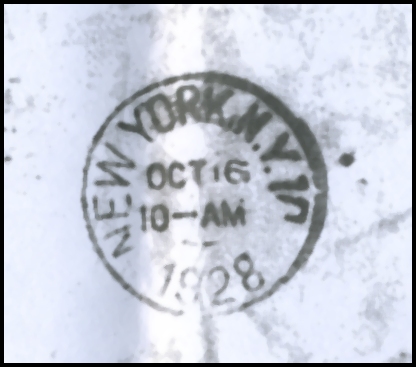 The letter is postmarked FRIEDRICHSHAFEN, 10.OKT28 and backstamped New York, N.Y. 10 AM, Oct. 16, 1928. It had arrived at Lakehurst, N.J. the previous day.

I'm not sure about this but I seem to vaguely remember that an attempt to moor one of our dirigibles to the tower on the Empire State building was scheduled and aborted when the aircraft (I believe it was the Akron) became practically unmanageable when nearing the low level needed for the mooring. They blamed the terrific down drafts encountered on the heat caused by the sun shining on the brick and stone buildings and asphalt covered streets.

I also remember watching the Graf Zeppelin flying over Brooklyn, N.Y. on its way to Lakehurst, N.J. where it was moored. The year before I also watched the reception of Charles Lindbergh when he returned by boat from his first solo plane trip to France.

Best Regards,
Len
We recommend the following web sites:
http://www.airships.net/lz127-graf-zeppelin/history, http://alphabetilately.com/Z.html,
http://www.ezep.de/zc/zc.html,
and http://en.wikipedia.org/wiki/LZ_127_Graf_Zeppelin#First_intercontinental_passenger_airship_flight and
http://en.wikipedia.org/wiki/Hindenburg_disaster

Here's a wonderful story about what it was like to travel via zeppelin:
http://home.earthlink.net/~nbrass1/zepp/zepp1.htm
See a similar cover at http://www.airships.net/zeppelin-mail/graf-zeppelin-covers with NY USA/FOREIGN oval strike on stamps
The Graf Zeppelin over NYC at http://www.skyscrapercity.com/showthread.php?t=34300&page=5
*Empire State Building in the News: http://www.esbnyc.com/tourism/tourism_facts_esbnews_july2000.cfm
---
Past Featured Covers
May 2009 Issue of the NJPH Journal featuring a cover of seasonal greeting.

A pretty little letter sheet invitation from a local hotel in Maurer (now part of Perth Amboy, Middlesex County), NJ turned up at the Garfield-Perry Show in Cleveland, in JWF (Jim Faber's) stock. Used in 1905, it is from a community that literally does not exist anymore. The location is now the site of a large "tank farm" belonging to Chevron.Read more.....
February 2009 Issue of the NJPH Journal featuring a cover of seasonal greeting.

A December 15, Hoboken, NJ postmarked Embossed Cameo Campaign Envelope produced by William Eaves was offered this March by Robert A. Siegel Auctions featuring a beardless Abe Lincoln. Only a few examples are known. This Hoboken, New Jersey cover hammered on March 25, 2009 for $2600.00 before the 15% buyers premium! Read more.....
November 2008 Issue of the NJPH Journal featuring a cover of seasonal greeting.

A RFD "Season's Greetings" post card, cancelled December 24, 1915 with a Pittstown, NJ postmark, sent by the carrier on Route 2 out of Pittstown to the people along his route. Special thanks to Member Jim Walker for sharing this cover. Read more.....
Members: One of the benefits of membership is sharing your interests and collections! If you would like to share an interesting single item from your collection, or have multiple items to share - the NJPHS Galleries offer you the opportunity to put your collectibles on center stage. Please e-mail your webmaster about contributing to our on-line Galleries. We can even help you if you do not have a scanner or digital images. Just ask. Remember, we are always looking for articles of interest for the NJPH Journal, and would welcome your contribution whether it's a single page or five page article.
If you are not yet a member, please consider the benefits of joining and the satisfaction you'll get by sharing with your fellow collectors: Become a Member