NJFSC Chapter #44S..........PHS Affiliate #1A..........APS Affiliate #95
Society & Member's Galleries....
As we continue to add more galleries, some will be for public display while many will be reserved for members access only.
Featured Covers Gallery
May 2010 Issue of the NJPH Journal Celebrates the 100th Anniversary of the Boy Scouts of America!
The map at left indicates the location of Treasure Island in Hunterdon County.

The map below shows both the original Treasure Island campsite, and the addition, in 1959, of Marshall Island, with the NJ/PA border shown in yellow. Treasure Island was the more developed of the two islands, with the central camp buildings, including City Hall which housed the post office. Marshall Island was used for more wilderness camping. It also had the advantage of Pennsylvania's less stringent gun laws, so was used for the rifle range. A small suspension bridge between these two was thus an interstate bridge. There was no bridge to either the New Jersey or Pennsylvania mainland. The camp was reached by boat from the Pennsylvania side where the docks were located.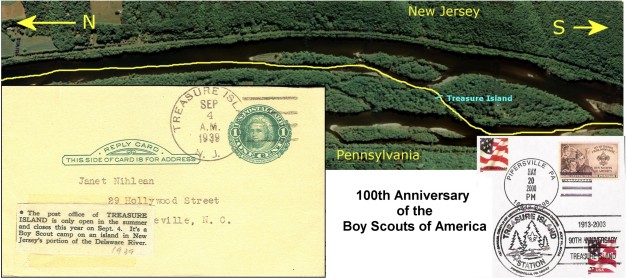 Stamp collecting among Scouts is an interesting field of philately, and Scouting has produced so many covers and items that many dealers even keep a "Scouting" box or category in their stock, precisely to serve those collectors. There is in fact a stamp collecting society which addresses them, Scouts on Stamps Society International, with a web site at http://www.sossi.org/index.shtml . It produces a journal with may interesting articles on Scouting philately.
Several of these articles have crossed paths with New Jersey Postal History Society interest, as one of the few Scout camps to have its own post office was in New Jersey – on Treasure Island. And this post office [which existed from 1931 to 1953] has the interesting distinction of having been listed briefly in Pennsylvania [in 1932] – a Post Office Department error. This is explained in greater detail in our most recent [May 2010] NJPH.
From a SOSSI journal article:
Treasure Island Scout Camp occupies a fifty-seven acre island in the Delaware River between Pennsylvania and New Jersey. The camp is operated by the Cradle of Liberty Council (formerly the Philadelphia Council), Boy Scouts of America.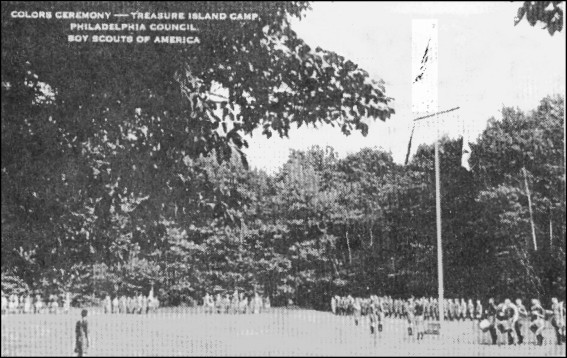 Colors Ceremony at Treasure Island NJ
The island was first used as a Scout camp in 1911 when Scoutmaster Oscar Worman brought Troop 46 here. It was a pioneer camp with no accommodations provided in advance. One meal per day was provided by the troop cook and the individual Scouts were responsible for their other meals as part of their woodcraft training. The island was used by Troop 46 again in 1912.
In January 1913, the primitive camp was leased for five years to the Philadelphia Council to become the successor to Camp Pequa (on the Susquehanna River below Columbia, PA). The name Treasure Island is derived from a casual remark from a camp inspection team member. Surveying the island, he remarked about "what a treasure" the island was. As "Treasure Island," it became an organized summer camp. When the original 5-year lease expired, a donation from Edward Bok enabled the Philadelphia Council to purchase the property. Thousands of boys have received training and enjoyment there.
Other Scout camps also claim to be the oldest continuously operated Scout camp. The Owasippe Scout Camps in Michigan, in an article by Gary W. Hall, were discussed in the November/December 2004 issue of the SOSSI Journal. Camp Owasippe, first known as Camp Wichita, was purchased (40 acres) in 1910. A well was dug in 1911, and the first camp was held there in 1912. Camp Owasippe today contains 14,000 acres but one cannot stand on the original 40 acres of the camp as this acreage was sold.
At Treasure Island, one can stand on the exact spot on the ground where Scoutmaster Worman first camped in 1911. As stated before, this land was leased in 1913 and purchased in 1918 by the Philadelphia Council and has been in continuous use since. (This article was written before the proposed closing of the Treasure Island camp in 2009.)
| | |
| --- | --- |
| | The US Post Office was located in the central building of the camp known as City Hall. The original façade, including barred window, letter combination boxes, and post office sign are still located at City Hall. The picture at left shows long-time SOSSI member and author Don Ross at City hall in front of the Treasure, Island, NJ Camp Post Office window. |
As the camp was owned and run by the Philadelphia [now Cradle of Liberty) Council, it is natural their ties would have been with Pennsylvania. Docks on Treasure Island were located on the western side of the island and access to the island was from the Pennsylvania side. Before Treasure Island opened its own post office, mail was handled through the post office in Pipersville, PA. During the existence of its named post office, mail was off-loaded to Pennsylvania, and when the post office closed, Treasure Island mail again was carried to Pipersville, PA, where camp mail was also picked up for distribution on the Island. So this New Jersey post office never passed its mail through any New Jersey postal distribution route.
Many covers were produced: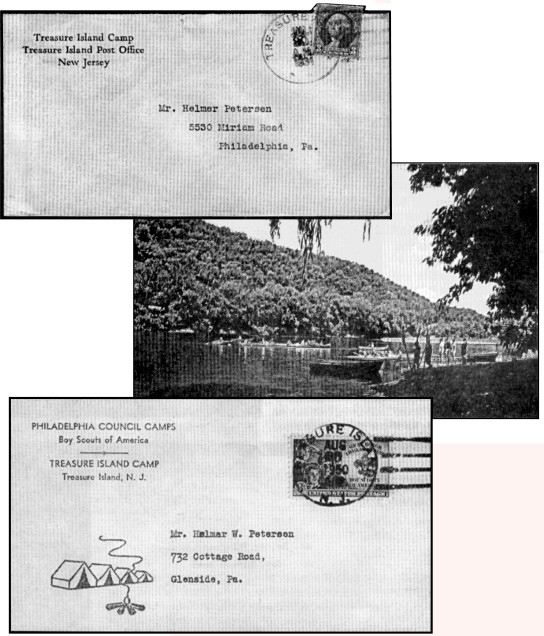 Many special cancels were also a part of the camps philatelic history: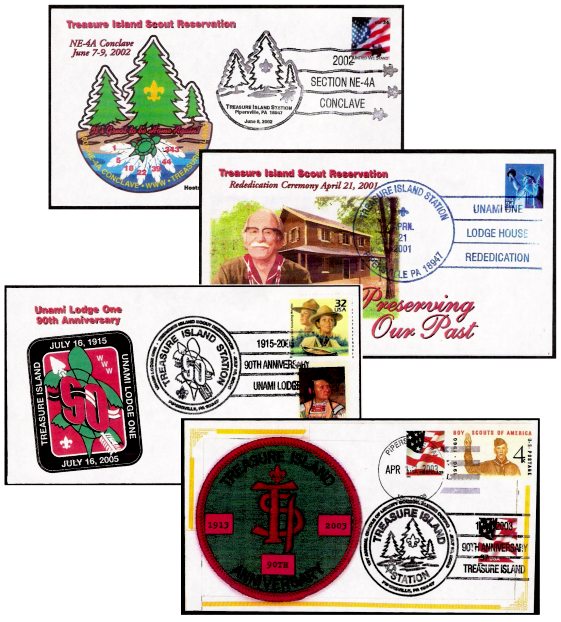 Treasure Island, as many islands in the Delaware, has suffered though many floods. In 2005 it was heavily damaged, and rehabilitated for the 2006 season, only to be again inundated. This, along with the need to update to code many of the buildings and sewage and electrical systems, have made it a liability, and sadly, we must report that this historic camp never opened in 2008 and is now closed.
---
Past Featured Covers
February 2010 Issue of the NJPH Journal featuring a 1995 cover of the aircraft carrier USS Kitty Hawk, the last of the conventionally-powered US aircraft carriers, decommissioned in 2009.

This great ship served almost 50 years in service of her country.
November 2009 Issue of the NJPH Journal featuring a Holiday Greetings from Viet Nam

Just before Christmas of 1971, a GI-produced Christmas card was distributed to the troops of the 101st Airborne for them to send home. A hand-made envelope served to carry it home to New Jersey.

As it was late in December, member Jim Walker used a U.S. air mail stamp instead of the usual free frank available to soldiers in combat,
Read more.....
August 2009 Issue of the NJPH Journal featuring a a Graf Zeppelin cover.

L127 First Trip to the USA in 1928. Special credit to John Trosky for this nice article!

WEB-SITE SPECIAL: an addendum to this article with additional information on an originating 1928 LZ-127 cover from Len Peck!
Read more.....
May 2009 Issue of the NJPH Journal featuring a DPO cover from Maurer, New Jersey.

A pretty little letter sheet invitation from a local hotel in Maurer (now part of Perth Amboy, Middlesex County), NJ turned up at the Garfield-Perry Show in Cleveland, in JWF (Jim Faber's) stock. Used in 1905, it is from a community that literally does not exist anymore. The location is now the site of a large "tank farm" belonging to Chevron.Read more.....
February 2009 Issue of the NJPH Journal featuring a cameo campaign cover.

A December 15, Hoboken, NJ postmarked Embossed Cameo Campaign Envelope produced by William Eaves was offered this March by Robert A. Siegel Auctions featuring a beardless Abe Lincoln. Only a few examples are known. This Hoboken, New Jersey cover hammered on March 25, 2009 for $2600.00 before the 15% buyers premium! Read more.....
November 2008 Issue of the NJPH Journal featuring a cover of seasonal greeting.

A RFD "Season's Greetings" post card, cancelled December 24, 1915 with a Pittstown, NJ postmark, sent by the carrier on Route 2 out of Pittstown to the people along his route. Special thanks to Member Jim Walker for sharing this cover. Read more.....
Members: One of the benefits of membership is sharing your interests and collections! If you would like to share an interesting single item from your collection, or have multiple items to share - the NJPHS Galleries offer you the opportunity to put your collectibles on center stage. Please e-mail your webmaster about contributing to our on-line Galleries. We can even help you if you do not have a scanner or digital images. Just ask. Remember, we are always looking for articles of interest for the NJPH Journal, and would welcome your contribution whether it's a single page or five page article.
If you are not yet a member, please consider the benefits of joining and the satisfaction you'll get by sharing with your fellow collectors: Become a Member